Dear readers, Black sesame seeds small in size but they have amazing health hair and beauty benefits. Since ages Chinese herbal medicine using black sesame seeds in their nutritional and therapeutic properties. They are the rich source of vitamin B and E and thiamine.
Black sesame seeds contain minerals like iron, copper, manganese, zinc, molybdenum, selenium, calcium, phosphorus and magnesium. It also contains amino acid and tryptophan and antioxidants such as sesamin and lignans sesamolin. They are a good source of fiber and phytochemicals. So black Sesame Seeds Reverse Grey Hair and amazing for health and beauty.
Sesame seeds are coming in different varieties and colors like white, black, yellow and brown. Its aroma and flavor are more intense than others. It is preferred for medicinal use and has several health and beauty benefits.
Read: Top 10 Yoga Poses for Hair Growth and to Stop Hair Fall
Black Sesame Seeds Reverse Grey Hair
In Chinese medicine black sesame seeds considered as a powerful anti-aging remedy. It promotes hair growth and nourishes the scalp. It helps to produce melanin pigment which balances the skin and hair color.
Comparing to others it has the highest oil content in it. Sesame seeds are the excellent source of antioxidants and they have anti-aging properties in it.
Check: Top 5 Tips to Make Hair Masks to Get Gorgeous Hair-Hair Fall Treatment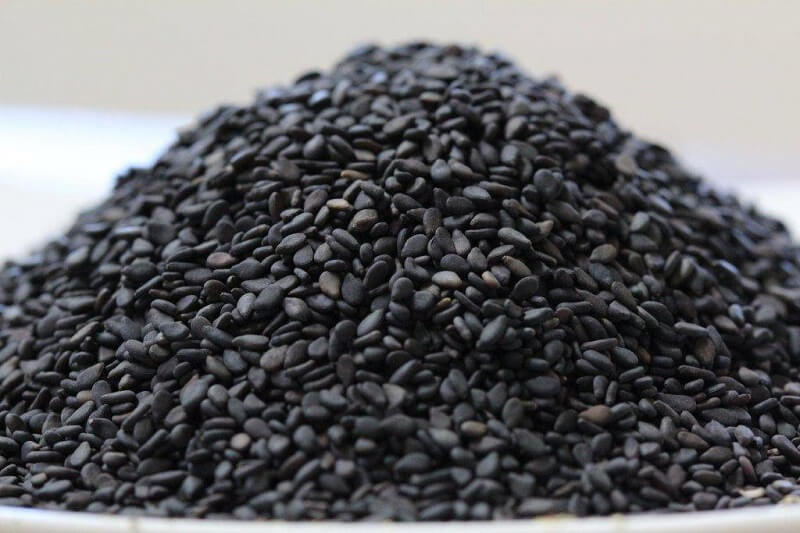 Black Sesame Seeds Health and Beauty Benefits
Anti-aging Properties
Chinese herbal medicine recommends these seeds to delay and reverse grey hair, poor memory, loss of hearing and poor eyesight. Vitamin B and iron presence in black sesame seeds help to fight to age. Black sesame seeds balance the sex hormone levels in women.
Prevents Osteoporosis and makes the bones and Teeth Strong
Black Sesame seeds are rich in calcium, magnesium, and phosphorus which makes the bones and teeth strong. One spoon of sesame unhulled seeds contains high zinc content, calcium 88mg which is more than one glass milk. These qualities in black sesame seeds increase the mineral density of bones.
Deep Sleep with Black Sesame Seeds
The presence of stress-relieving minerals calcium and magnesium makes the body and mind relaxed. Amino acid and tryptophan produce serotonin, which helps to restore the normal sleep pattern and assist moods. It helps to get better sleep.
Know about: Best Hair Fall Solution-Dandruff Treatment-How To Get Rid Of Split Ends
Get Beautiful Skin
The presence of oleic acid in sesame seed makes the skin soft and regenerate the cells. Linoleic acids protect the skin moisture and restore the skin barrier. While the high phytosterols reduce itching and redness and combat the weather-damaged skin.
Relieves arthritis
the presence of copper in sesame seeds reduce the swelling and pain associated with arthritis. This mineral keeps the joints and bones healthy and flexible.
Prevent Cancer
Sesame seeds contain anti-cancer compounds and magnesium, phytic acid and phytosterols. The presence of phytosterol in black sesame is the highest of any other seeds.
Strengthen Liver Functions
Black sesame is rich in antioxidants which protect the liver from damage. It also helps to maintain liver function in a proper way.
Anemia
Sesame is the best source of iron which is recommended to cure anemia.
Cardiovascular Health
Sesamin and sesamolin reduce blood cholesterol levels and prevent high blood pressure. Calcium and magnesium help to regulate the blood pressure and keep it in control.
Asthma Prevention
The presence of magnesium in black sesame seeds help to prevent airway spasm and control asthma.
Check: Banana for Damaged Hair: 9 DIY Banana Hair Masks for Dry And Dull Hair
Improve Vision
When the liver has any problem eyes become dry and tired as eyes are linked with liver health. In a few cases, vision may become blurred. Black sesame seeds are a natural boost for liver functions and health. This, in turn, supports eyes function and health.
How to Use Black Sesame Seeds
Roast the sesame on light fire for few minutes or eat raw. Sprinkle on any dish or salad and enjoy its taste.
Soak the sesame overnight or sprout sesame eat early morning. One can prepare sesame sweet by adding sugar or jaggery in it.
Black sesame soup also can take, which is also called as dessert, made with black sesame sugar and rice.
It is the best way to take it raw as roasting them reduce the phytic acid content in it. Daily take 1 tablespoon.
Sesame may not be suitable for all the people it may lead to an allergic reaction. If anyone suffering from diarrhea or fever avoid taking black sesame seeds.
If any health problem or food allergy problems take doctor advice before consuming black sesame seeds.
Leave your feedback on the topic.