Dear Readers, All the people want to flaunt pink and soft lips. Naturally beautiful lips make the smile more pretty. These days' dark and pigmented lips have become a constant problem for some people. The reasons for dark and pigmented lips are excess coffee or tea intake, dryness, cosmetic reaction, more exposure to the sun. How to get rid of dark lips naturally without using any expensive scrubs and peels? I'll explain home remedies which are experimented on people which works 100%.
Get rid of Dark Lips
Here are the remedies to lighten dark lips naturally.
Get Rid of Dark Lips with Coconut Oil
Coconut oil is excellent for lips to keep it hydrated and beautiful as it contains fatty acids.
Apply coconut oil on the lips and massage gently with your fingertips.
Repeat the same process before going to bed.
Almond Oil to Get Rid Of Dark Lips
Almond contains emollient and sclerosant properties. Emollient smoothens and rejuvenate the lips and sclerosant lighten the lips. It is the powerful remedy to get rid of dark lips.
Take pure almond oil one drop and apply on the lips.
Massage slowly and leave it overnight.
Apply before going to bed.
Lemon Honey Remedy to Get Rid of Dark Lips
This is an excellent treatment to get of dark lips by sitting at home. Lemon juice contains citrus extracts which remove tan. Honey works as nourishment for lips which make them pink.
2 drops lemon juice
2 drops honey
Water
Soft cloth
Take honey to add lemon to it mix well. Tan removing serum for lips is ready to use.
Apply on lips and leave on for 1 hour. Wipe off with the soft wet cloth. Repeat this process twice in a day to get rid of dark lips tan and pigmentation.
Glycerine for Lips
Sun exposure is not only responsible for dark lips. dryness, improper maintenance, and lips stick chemicals also responsible for pigmented lips. glycerin is very useful to retain moisture and prevent drying, thus helps to get rid of dark lips and pigmentation.
Apply glycerine gently over the lips with the help of cotton before bedtime.
Repeat the same every night.
Aloe Vera for Dark Lips
The presence of flavonoid called aloesin in aloe vera helps to inhibit pigmentation process in the skin. This helps to lighten and rejuvenate the lips. it also provides healthy nutrients to lips.
Take aloe vera and apply a thin layer on the lips and leave on.
When it gets dry rinse with lukewarm water.
To get the best results to apply every day.
Apple cider Vinegar for Dark Lips
Apple cider vinegar nature is mildly acidic due to the presence of alpha hydroxyl acid in it. It removes the pigmentation and acts as a natural lightening agent.
Never use apple cider vinegar as an overnight application as it may damage the skin for using such a long period of time.
1 teaspoon apple cider vinegar
1 teaspoon water
Cotton
Take vinegar and add water to it.
Apply this mixture on lips with the help of cotton
When it gets dry after 10 minutes rinse off with lukewarm water.
Repeat the same process daily.
Baking Soda for Dark Lips
Dead cells are also responsible for dark lips. Baking soda helps to remove dead cells and brings pink and healthy skin lips. After exfoliation olive oil or lip balm is important to keep the lips hydrated.
Baking soda 1 tablespoon
Water
Olive oil or lip balm
Toothbrush
Take baking soda and add water to form a paste.
Apply on lips and scrub gently with toothbrush or fingertips 2 minutes in the circular motion.
Rinse off with normal water pat dry and apply olive oil or lip balm.
Repeat the same process every alternative day.
Beetroot slice to get rid of Dark Lips
Beetroot juice removes tan from the lips naturally. It cleanses the lips and makes it soft and supple. The presence of antioxidants in beetroot helps to keep the lips young and healthy. Within a few days your lips are naturally pink.
Take beetroot to make thin slices. Store it in a refrigerator.
Take beetroot slice from the refrigerator and rub it on your lips for 3 minutes.
Wash off after 10 minutes.
Repeat this every day.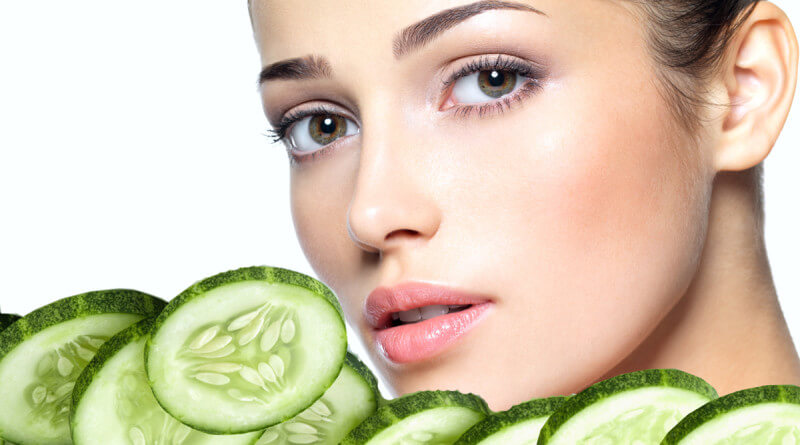 Cucumber Juice to Get Rid of Dark Lips
The cucumber juice rejuvenates and lightens the lips. It is soothing and nourishes the skin.
Take a cucumber and blend it to make juice. Keep it in the refrigerator.
Take cotton and dip it in cool juice and apply gently on the lips.
Leave on for 25 minutes then rinse off with normal water.
Apply this daily you will get the results within 15 days.
Rose water to get Rid of Dark Lips
Rose water stimulates blood flow to the lips and provides nourishment to it. It enhances the cell renewal and brightens the lips color.
Keep the rose water in the refrigerator.
Dip the cotton ball in cool rosewater and apply in on the lips.
Rub the lips with cotton for 2 minutes
Leave on overnight rinse off with normal water. Have pink lovely and beautiful lips.
Dark Lips Causes
Excess tea or coffee habit
Without any lip balm exposes to sun rays
Cosmetics reaction
Smoking
Dried lips
Dry and dead cell leads to dark pigmented lips.
Health care is important to achieve beautiful pink lips. To prevent dehydration drink 8 to 10 glasses of water daily. Dehydration is one of the main cause for dark lips.
If the lips are dark from birth you can try these remedies but there is no guarantee to get rid of dark lips. If dark lips due to smoking, sunburn, chemical or cosmetic reaction it is easy to get rid of dark lips with these natural home remedies.
Avoid UV sunrays to prevent melanin growth on your skin, especially lips, hands, and face. Melanin creates pigmentation and lips become dark. Try to wear a cap or apply lip balm with SPF 15 while going in sun rays. Sometimes due to heavy sun rays, you may notice dark spots on the lips.
While purchasing lips stick to check for the good branded herbal product as this is safe for lips. Fresh fruit puree also excellent to remove sun tan and get rid of dark lips. Use any good branded herbal lip balm. If you are not aware of any well-branded product then search it in Google.
Do let me know your views on the topic. If you know any new remedy let me know in the below mention comment box.