Dear Readers, A beautiful personality needs the fit and beautiful body. Learn Skin Care & Peeling-Acne-Dark Lips-Stretch Mark Cure for Men & Women. Almost everyone takes care and has become a fitness freak. Playgrounds and gyms are full of people who want to achieve perfect fitness. Few people stick to the diet to get positive impact by providing all nutrients to the body.
Along with exercise diet is very important to lose weight. Before diet needs to take expert advice as for when one cuts down the food without balancing proper diet which is necessary for the body, it can be dangerous and results in a lack of nourishment and loss of hair and skin health. Take such balancing diet, which reduces weight and no effect on health.
Dark Lips Treatment
There is no normal color for lips. The lips color is different from one person to another. To make lips natural pink massage lips with butter milk twice in a day. While going to bed apply lip-salve on lips. Use light shades of lipstick if necessary as dark shades result in lips pigmentation. Use branded product which is safe some lipsticks with dark shades also safe if it is branded one.
Want to know more about Skin Care? Click Here Skin Care-Cleanser-Toner-Moisturiser-Eye Treatment for Men and Women
Stretch Marks Treatment
Whenever a person gains or loses weight then the skin develops stretch marks. Teenage fat, pregnancy, the sudden spurt in body weight, all these cause stretch marks. If one knows the correct method they can prevent and control stretch marks.
Losing a lot of weight suddenly is not a good sign. Due to improper diet skin becomes itchy and scratchy. It also brings a lot of undesirable changes in the skin and the body.
To get rid of stretch marks take half teaspoon of aloes, half teaspoon of papaya pulp, 1 teaspoon sandalwood paste, 1 teaspoon rose water, 2 drops lavender oil, 10 drops almond oil and 2 teaspoon milk cream and make a thick fine paste. Apply over the stretch marks and gently massage for 10 minutes before bath thrice in a week until get rid of stretch marks.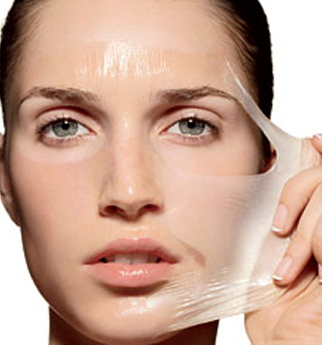 Skin Peeling Treatment
The Skin peeling treatment is suitable for scars, pigmentation, and freckles. During this treatment, 33% glycolic acid is peeled by the skin. This treatment has long lasting result naturally. Diamond dermic stud machine is used for the peeling. In comparison with other peeling methods diamond, dermic stud machine peeling method is better to achieve a good result.
Glycolic peeling can be done with hands normally. This treatment helps to remove scars, which is left after pimples and acne. High frequency needs to use under the supervision of any beautician.
Glycolic Peeling Method
Take apple cleanser and clean the face with it.
Allow hot compressor with cotton and remove whiteheads and blackheads then do the deep cleaning.
Next, do the skin toning with any branded skin toner.
Apply glycolic peel on all over the face and leave on to get dry. Don't apply this peel around the eyes and on the lips.
Use the study as per requirement and peel the skin carefully with the help of diamond derma machine.
After peeling neutralize the skin as this is a chemical peel.
Apply ample as per the skin requirement and massage with the help of ultrasonic machine carefully.
Massage with hands for 5 minutes if required.
Take oxygen mask and apply on all over the face.
Oxygen Mask
The oxygen mask is helpful to let the oxygen enter the skin. Peeling has removed the upper layer of the skin and now the skin is more sensitive. Therefore the skin absorbs oxygen mask rapidly and it becomes lively and healthy. The peeling doesn't have any other effects or damage to the skin if it is done in proper way.
The mask is helpful to make the skin light and tight. It also helps to nourish the skin. Therefore the application of oxygen mask at the end of the treatment brings 80% better results.
Pimples and Acne Treatment   
This treatment is suitable for pimples and acne skin. Need to use high frequency for this treatment. The high-frequency machine helps to make the blood circulation faster. It is an alternative and heat is mild. This heat is protective and anti-bacterial heat.
High-frequency heat provides cooling, soothing, and drying effect. High frequency is divided into two types.
Argon-Neon
The organ has orange rays while the neon has blue rays.
The argon high frequency heat helps to penetrate skin toner into the skin.
The neon high-frequency heat controls the extra oily secretion and active sebaceous glands.
1.Take face wash or alkaline wash and clean the face.
2.Allow steam and remove whiteheads and blackheads then apply astringent on all over the face.
3.Take mint gel and massage for 8 minutes and clean the face with cotton.
4.Apply the medicated powder on the face with the help of cotton then allow high-frequency heat for 8 minutes. If a pimple or acne is bleeding or aggravated don't allow high frequency on it. If big pimples on the skin, allow high-frequency heat with its electrode up.
5.Clean the electrode with astringent and clean the face powder with the help of astringent by using cotton.
6.Take anti-acne serum on the face and then apply thick pimple pack over it. Leave on to get it dry. Remove when it gets dry completely.
7.After removing pack apply skin toner on all over the face, neck, and forehead.
This is about Skin Care-Skin Peeling-Acne-Dark Lips-Stretch Marks Treatment for Men and Women. Let me know your views on the topic in the comments. If you like this article please share and rate it in order to create awareness about Natural beauty and Health. I will come back with new posts for Health, Recipes, and Herbal Beauty tips soon.
Keep visiting Take Care 
www.sazworld.com