Dear Readers, Pollution is one of the major problem and destructive element of the world. It is very harmful to the skin. Due to pollution free radicals formed, when it reacts with the skin they harm the skin elasticity and collagen of the dermis which results in skin sagging and aging.
They can also cause other diseases and cancer. So it is necessary to keep the skin neat and clean, and need to protect it from harmful elements and pollution.
Want to know more about facial? Click Here Facial Course-AHA Facial-Green Apple Facial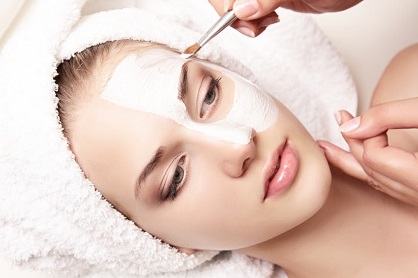 Pearl Facial
The Pearl facial is suitable to the normal and delicate sensitive skin. It brings coolness to the skin. These facial ingredients are anti-allergic. Take pearl cleanser and massage the face neck and forehead for 8 minutes. Now remove whiteheads and blackheads and apply astringent.
Take pearl cream and massage for 15 minutes by following the strokes given in previous articles. Now take oil from pearl-kit and massage for 10 minutes. Wipe off and apply pearl mask leave on for 7 to 10 minutes. Rinse off with plain water and apply skin-protection cream or sun-protection as per the requirement.
Oxygen Facial
Skin needs oxygen and it is very important to keep the skin fresh, healthy and alive. Oxygen facial brings instant glow and it makes the skin healthy. Oxygen facial helps to charge the dull skin.
According to the type of the skin clean the face with cleanser. Apply facial peeling cream on the face, neck, and forehead. Leave on for 7 minutes. Give ozone steam over it for 10 minutes. For dull skin give ozone steam for 10 minutes. Peeling cream has scrub quality tiny granules in it. After steam removes whiteheads and blackheads then apply astringent.
Take skin food cream and massage for 25 minutes by giving all facial strokes which are explained in previous articles. Now mix any branded whitening cream in oxygen cream and massage for 10 minutes.
Wipe out the cream gently. Apply ample as per the skin problem and requirement and apply the oxygen-mask. Take one transparent plain paper and cling it tightly on the mask. Cut the paper little at the nose-cut as the breathing would not get any problem.
Leave on the oxygen mask for 15 minutes. Remove the mask rinsed off with plain water. Apply skin protection lotion and while going out apply sun-protection lotion.
This is about Facial Course-Skin Care-Pearl Facial-Oxygen facial. Let me know your views on the topic in the comments. If you like this article please share and rate it in order to create awareness about Natural beauty and Health. I will come back with new posts for Health, Recipes, and Herbal Beauty tips soon.
Keep visiting Take Care 
www.sazworld.com