Dear Readers, How can one retain the beautiful and youthful looks? Is it possible? Yes, it is possible to remember few rules which are given below to prevent the signs of aging.
1.Follow exercise regularly.
2.Get enough sleep.
3.Daily eat plenty of fresh fruits and vegetables.
4.Every day take 10 glasses of water.
5.Stick to a perfect and good skin care routine.
6.Avoid smoking.
7.While going outdoor always wear a sunscreen lotion.
8.Avoid stress and tension as much as possible. Take relax whenever require.
9.Practice meditation regularly.
To know about Facial Course-Skin Care-Pearl Facial-Oxygen facial Click Here https://sazworld.com/2016/02/skin-care-pearl-facial-oxygen-face.html
Facial with Gold-Metallic
Golden-metallic Facial is suitable for normal, dry and mature skin. Take gold cleaner and clean the face. Next, do the deep cleaning. Remove whiteheads and blackheads. Apply astringent on all your face, neck and forehead.
Apply gold-metallic peel along with the gold dust. Then apply gold dust only on the problematic area. Leave on for 15 minutes and remove it with friction massage. After this massage applies hydro-skin polisher on the face and massage for 10 minutes. Never use water after this massage.
Without wiping gel apply gold cream and massage for 25 minutes. Massage with skin-butter for 5 minutes If the skin is drier. Now clean the face and apply the gold-metallic gel. Massage with ultra sonic or galvanic machine for 8 minutes on the gold gel.
Now start massage with hands for 7 minutes. Apply gold-mask and leave on for 10 to 15 minutes. Clean the face with cotton or rinse off with normal water. Apply skin protection lotion and while going outside apply sun protection lotion. The whole gold facial treatment process takes more than one hour.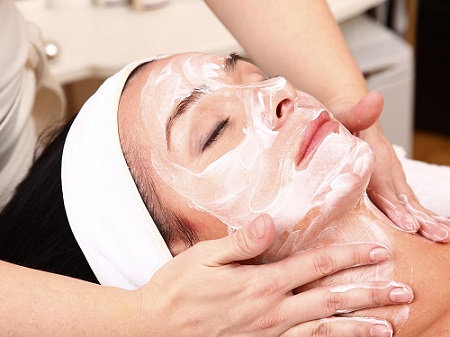 Silver Facial
The Silver facial is suitable for normal and oily skin. With the help of silver, cleanser cleans the face gently.  Follow deep cleansing with scrub. Remove whiteheads and blackheads then apply astringent. Massage for 10 minutes.
Soak silver peel powder in curd or milk for 8 minutes and apply on the face. Leave on for 10 minutes and rinse off with curd or milk in which peel was soaked. Apply silver gel massage with galvanic plus or ultra sonic machine for 10 minutes.
While galvanic massage keeps on applying silver lotion. Now start massaging with both the hands for 10 minutes. Apply silver pack and leave on for 15 minutes. Now rinse off the pack and apply skin protection lotion and while going out apply sun protection lotion.
This is about Facial Course-Skin Care-Golden facial-Silver facial. Let me know your views on the topic in the comments. If you like this article please share and rate it in order to create awareness about Natural beauty and Health. I will come back with new posts for Health, Recipes, and Herbal Beauty tips soon.
Keep visiting Take Care 
www.sazworld.com