Dear Readers, Do you want to know Japanese women average lifespan? It is not less than 84 years. They held the great record of being the longest-living women on earth. They do not get fat and sick easily as they are healthy people. What is the great secret behind their health and long life? Is it because of their genes or any other secret?
Since our beauty begins from the inside, food is the main important thing to mention. The way of cooking of Japanese is different from the European one. They use very little pure oil.
According to the book entitled Japanese women don't get fat or old by Naomi Moriyama. In this book, the writer takes the readers into their kitchen to reveal the secret behind their healthy and long life. She summarized the secret in the below given 7 points.
1.Simple Nutritious and Healthy Food
Japanese people eat homemade healthy food. Their meal includes little-steamed rice with grilled fish, simmered vegetables and fruits, a bowl of miso soup and green tea. They prefer fresh fruits in place of dessert.
2. They Eat Small Portions
Did you pay attention to how the Japanese serve the food? They give importance to the presentation of food. They use beautiful bowls and plates. Japanese never serve full of plate meal but serve in small portions. They use a separate bowl or plate for every different dish.
3. They Don't Like to Eat Bread
Japanese people prefer to eat rice over bread or bun. They add steamed rice in all the meals. They eliminate the bread and wheat flour from their food.
4. Japanese Breakfast Style
They consider breakfast is the important and biggest meal of the day. They include miso soup in breakfast. It gives the good energy boost.
5. Their Desert Style is Different
They have sugary items very less. They always watch their portions.
6.Dairy products
The Japanese use fermented products like kefir etc. This helps to lose weight loss improves the intestines functions and skin condition.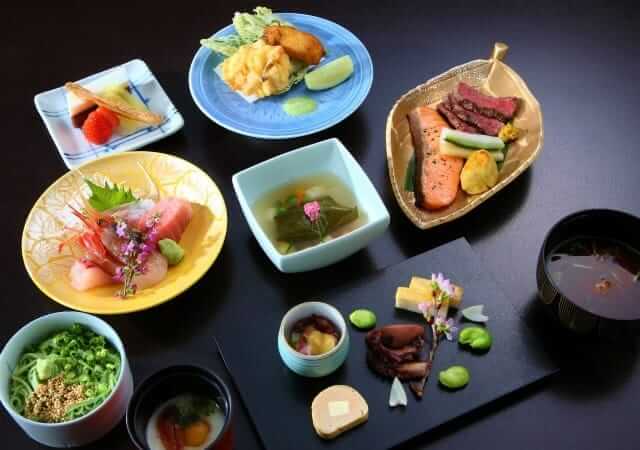 7. They Cook their Food Lightly
Japanese cook in the form of simmering, steaming, sautéing, quick fry or pan grilling. They always use heart-friendly oils for cooking. They take fresh and light stomach filling foods.
8. They have A Very Positive Attitude Towards the Food They Eat
Japanese people are encouraged eating different varieties of foods and not concerned about losing weight.
Since childhood, they are taught to eat slowly each bite. Apart from these, they follow a healthy lifestyle with physical activities such as walking, biking, and hiking etc.
Japanese diet as follows
1.Fish
Japanese people include fish in their diet always which contain omega-3. They consume 10 percent of all the fish in the world while they make up only 2 percent of the world's population.
2.Rice
The staple foods of Japanese people are rice as rice helps them to avoid cholesterol and trans fat. These days many people prefer purple rice and brown rice over white rice.
3.Green Tea
Japanese people take a small cup of green tea after their meals. Green tea helps to prevent heart diseases and rich in antioxidants.
4.Soybeans
They consume soy and soybeans around 50 grams a day in their dishes.
5.Fruits
Instead of muffins, cakes, and biscuits, they eat lots of fresh fruits. They consider fruits are the best in place of dessert.
6.Vegetables
Japanese people consume cruciferous vegetables 5/6 times more than Americans. They consider seaweed an important source of nutrients. They include cabbage, broccoli, kale etc in their food.
7.Fast Foods
Japanese cultural people don't like to eat greasy, harmful and improper cooked food. They always prefer to eat homemade food which gives all the body need substances.
8.Skin Care
Japanese do not like to decorate the skin with cosmetics. They don't need to make up at all because their skin looks naturally wonderful with proper care. To preserve the whiteness and tenderness of the skin they spend a lot of money on cosmetics like sunscreen etc.
This is the reason why Japanese women never get fat they are fit and slim body beauty and lives the longest
Include these all foods in your diet and see yourself transform. If you know any remedy on this topic do let me know in the below comments. Leave your feedback.