Dear Readers, The nuts and seeds are not only tasty but also add protein to our diet. Nuts and seeds provide several benefits to health and beauty and it is a wonderful protein helpful to lose weight quickly.
The diet which is high in protein is always good for health and beauty. It keeps full for a longer period of time, manages body weight and it builds and repairs the body muscle tissue. Always add protein-rich food in your diet.
Nuts and seeds provide a high amount of protein to the body. It also helps to boost the immune system and maintains heart health. Nuts and seeds are rich in nutrients such as minerals, fiber, vitamin E, complex carbs omega-3 fatty acids and other healthy fats.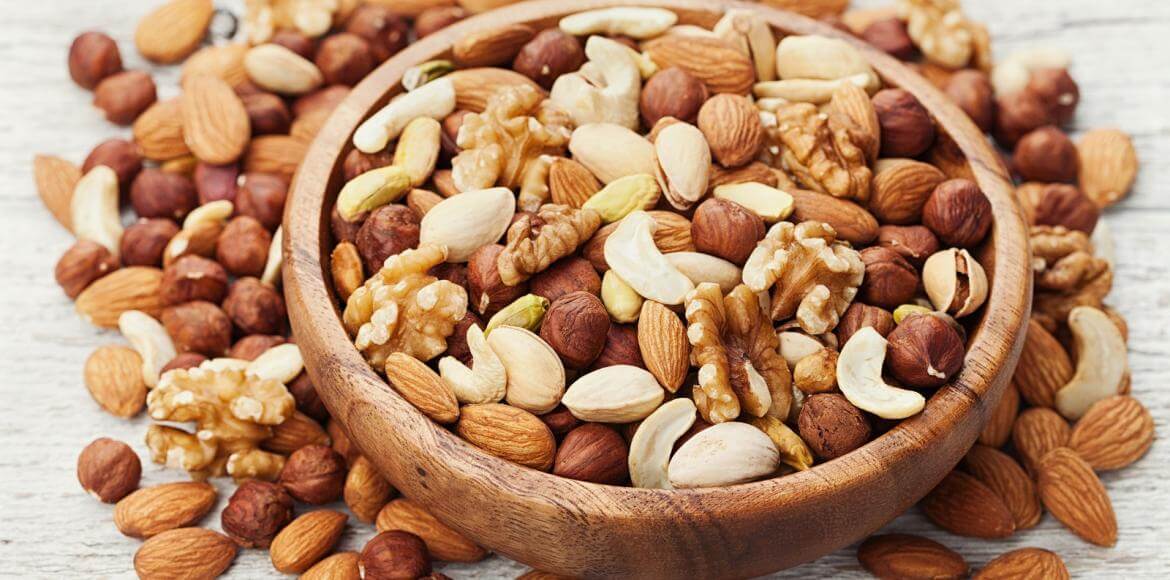 Nuts Benefits to Lose Weight Quickly
1.Pistachios to Lose Weight Quickly
Pistachios are high in dietary fiber and they are the rich source of protein. They have numerous health benefits but it is important to take these nuts in limited quantity regularly. Intake of dietary fiber helps to feel fuller, which prevent from intense food cravings. This is very helpful to burn more fat and lose weight.
2.Cashews for Weight Loss
Almost all people use cashew in special dishes in all over the world. Cashews are rich in protein, magnesium, monosaturated fat, magnesium, phosphorus, vitamin K and B vitamins. Around 4 cashews provide 1 gram protein along with other health benefits. Magnesium regulates the metabolism of carbohydrates and fat which helps to lose weight.
3.Almonds beneficial for weight loss
50 gram of almonds provides 10-grams protein. 5 almonds provide about 1 gram of high-quality protein. Almonds are high protein snack and one can have it early in the morning with milk. Almonds can be used in sweets and biryani. Daily intake of almonds helps to burn fat.
4.Peanut to lose weight
Peanut has several health benefits. 100-gram peanuts provide 25-grams protein. A handful of peanut daily is a substantial amount for health and weight loss. It is also good to maintain heart health. The nutrients in peanut help to keep the weight off in the best way.
Protein-rich Seeds to Lose Weight Quickly
1.Flax Seeds
Flax seeds are also known as linseed. Flax seeds are rich in omega-3 fatty acids, fiber, and lignans. It has several health benefits. It helps to reduce inflammation, good for heart health and boost the immune system. The presence of lignan in flax seeds helps to reduce cancer risk.
Flax seeds help to control blood pressure and blood sugar. Daily consumption of flax seeds helps to lose weight.
Chia Seeds
Chia seeds are rich in dietary fiber and they are high in omega-3 fatty acids. It maintains heart health and healthy weight loss.  Never eat too many their effect will be the opposite. Chia seeds interact with blood thinners or blood pressure medications. If someone is taking medicines for these problems don't take chia seeds.
Nut butter to lose weight quickly
Almond Butter
Almond butter is a thick paste of almonds which is made by grinding almonds. It is an ideal source of protein to lose weight. It can get prepared at home.
Peanut butter
The best choice is natural and organic peanut butter brand to lose weight quickly. Read the label before purchasing to find the lowest sodium amount and lowest sugar in ingredients. It reduces the risk of diabetes and heart diseases.
Note: If any health problem consults your doctor before using any remedy.
Leave your feedback on the topic.