Dear Readers, 
Today I am going to discuss Kidney Stones Causes Symptoms Prevention and Treatment.The formation of stones in the kidney is a common disorder. Kidney stone problem is related to body system and lifestyle.When calcium oxalate present in urine and other chemicals form into crystals it is known as a kidney stone. These crystals convert into stones gradually, equal to the wheat grain size.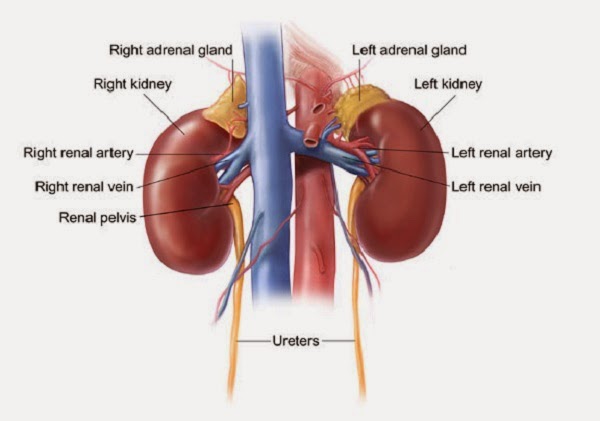 KIDNEY STONES
The kidney is two bean shape organs. They are soft, reddish brown in color.they purify blood by removing salt and water from it which are passed into the bladder as urine. Kidney stones are common among the men when compare to women.
There are two types of stones primary and secondary stones. Primary stones are not due to infection its formed in acidic urine and it is due to alcoholism, sedentary life, constipation.
It is also due to excessive intake of nitrogenous or purine-rich foods. Secondary stones are due to local infection and are formed in alkaline urine.
Reasons for kidney stones
1.Drinking less water

2.Wrong intake of medicines

3.Chronic urinary infection

4.Urinary tract blockage

5.Genetic and metabolic elements
Kidney stone patients do not have many problems. But some symptoms are given below clearly show the presence of stones. These problems can remain from few minutes to few hours.




Severe pain in lower part of legs and kidney.




Blood in urine




Impure urine




Vomiting




Fever and weakness
Experts say that kidney stones can be prevented by drinking lots of water.If the stone is detected in a person, they should take dietary precautions and medicines. Reduce the intake of chicken, beef, pork, fish, and eggs. This will prevent the formation of more stones.
Kidney stones patient should take banana, carrot, pineapple and coconut water to prevent stone formation. One person should take three liters of water per day this causes urination and reduces the risk of stones.
Calcium kidney stone: the –
In case of Calcium stone reduce the intake of salt and sodium, tomatoes, Zavala, cheekoo, cashew nut, mushrooms as these are harmful.
Oxalate Kidney stone: the –
In case of Oxalate content is more in stones then reduce the intake of coffee, Orange, Peanut, Tea, Berries, Chocolates, Cheekoo and sweet potatoes. This prevents stone formation.
A majority of patients suffering from kidney stones can get treatment by proper diet. Avoid foods Alcoholic beverages, pickles. Vegetables like Cucumbers, Radish, Tomatoes, Spinach, Rhubarb. Strong aroma foods like asparagus, onions, beans, cabbage and cauliflower, meat, gravies and carbonated waters. These foods irritate the kidneys.
Basil (tulsi) juice and honey should take for six months. It has been found that stones can expel from the urinary tract by this treatment. Its regular use prevents future stone formation.
Research has shown the remarkable therapeutic success of vitamin B6 in the treatment of kidney stones. This treatment has to continue.
used for several months for obtaining a permanent cure.
So, these were the tips on how to protect Kidneys from forming stones. What are your views on the topic? Do let me know in the comments.If you like this article please share and rate it and comment below. I will come back with new posts for health and herbal beauty tips soon.
Note: If any serious problem please consult to your doctor immediately.