Dear Readers, Glossy red color and round shape, cranberries flavor strong yet a delectable. Cranberries excellent for health as it is full of nutrients superfood. It is rich in vitamins minerals and antioxidants and phytonutrients. Cranberries heal stomach inflammation and best for cardiovascular health.
Cranberries prevent urinary tract infections, scurvy, and respiratory infection. Strengthen teeth and bones and excellent for weight loss. One can enjoy cranberries in their raw form. It is also available in the form of sauce, juice, and jam. Apart from health benefits, Cranberries are best for skin and hair.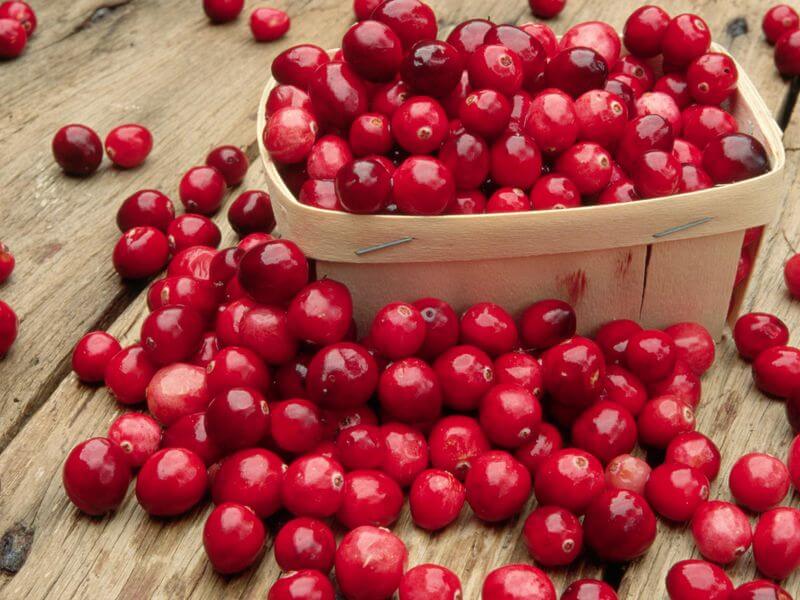 Cranberries low in calories and rich in vitamin A, C, and K. Cranberries contain proanthocyanidins and antioxidants which is helpful to prevent a range of diseases.
It is rich in vitamin K people who use blood thinners must consult a doctor before extra cranberries.
Here are some wonderful ways how to use cranberries for beautiful skin and hair.
1.For Blemishes and Acne
If anyone suffering from acne, then cranberries are very useful for them. It has anti-viral and anti-inflammatory properties which treat blemishes and acne. Moreover, the presence of vitamin C in this fruit helps the marks and scars fade away.
Take some cranberries and make juice. With help of cotton piece directly apply to blemishes and acne. Leave on for 20 minutes and wash off with normal water.
2.Cranberries to unclog pores
This remedy is for oily skin care. Cranberries have a natural acid that is excellent for clogging of pores. It also prevents boils and acne on the face.
Make cranberries juice and apply on the face with the help of cotton. Leave on for 20 minutes and wash off with water.
3.Hyper-pigmented Skin Cure
Cranberries rich in astringent and antioxidants, it helps to cure pigmentation.
Take some cranberries and make juice add gram flour to it. Apply on face and massage gently in circular motion for 10 minutes. Wash off with cold water.
4.Glowing Skin with Cranberries
Cranberries have the antioxidants properties to make the skin supple and glowing. Antioxidants help to fight free radicals that are responsible for dry saggy and dull skin.
Take some cranberries and blend it to make juice. Mix yogurt in it and apply on face. Massage gently for few minutes. Wash off with cold water. Use this remedy daily to get the youthful glow.
5.For Firm Skin
People with saggy skin must use cranberries in their daily skin care routine. The presence of vitamin C in cranberries helps to boost collagen production. It improves the elasticity of the skin. Collagen production helps to carry helps to carry nutrients and oxygen to the skin. This helps to make the skin glowing soft and firm.
Take some juice of cranberry in a bowl and add orange juice to it. Apply it on the face and leave on for 15 minutes. Wash off with plain cold water.
6.Scalp Irritation Cure with Cranberries
The presence of anti-inflammatory and antibacterial properties in cranberry helps to prevent scalp irritation. Cranberries are best to cure scalp irritation.
Take egg white and mix in cranberries juice. Apply directly on the scalp by covering the hair tips. Massage gently for 10 minutes. Leave on for 15 minutes wash off with cold water. Follow this remedy twice in a week for the better result.
7.Natural hair color with cranberries
Cranberries juice help to give a natural color to hair. Few people use cranberry juice to get a natural red hue to the tresses. It is natural so it does not have any side effects.
Take some cranberries juice which is purred and mix it with water. Apply it on the scalp and leave on for 20 minutes. Wash the hair with normal water.
If one wants to get red tinge on the hair repeats the same process thrice in a week.
8.Shiny Hair
Cranberries have good amount vitamins and proteins. Wash the hair with fresh cranberry juice to get lustrous and shiny hair.
Take one cup of mayonnaise and mix with cranberry juice. Apply on scalp and leave on for 20 minutes. Wash off with normal water.
9.Toning of lips
Cranberries act as natural lip gloss on lips. They are helpful in treating dry and pigmented lips. If one use cranberry topically lips becomes depigmented radiant and soft. One can use cranberry juice, cranberry paste, cranberry-infused lip gloss or balm to see excellent results.
10.Dental Beauty with Cranberry
Cranberries have proanthocyanidins benefits our oral health and beauty. It prevents bacteria from binding to teeth. According to the researchers at the center for oral biology, and at the University of Rochester medical center Eastman department of density, it is stated that cranberries also beneficial in preventing gum diseases.
11.Premature Aging
There are so many factors which cause premature aging. Consuming cranberries or applying topically can prevent premature aging of hair and skin. The presence of antioxidants in cranberries promotes new cells growth. It also helps in eliminating free radicals from the skin to make it beautiful and healthy. To reduce fine lines and wrinkles one can use cranberry infused beauty products.
12.Skin toning with Cranberry
Cranberries carry lot of enzymes which helps to exfoliate the dead skin cells. It controls the excess sebum production. Cranberries reduce pores as it has natural astringent properties. The presence of vitamins in cranberries helps to lighten skin tone. This makes the skin even toned and radiant.
13.Dandruff Cure with Cranberry
Cranberries are famous for their antiseptic and antifungal properties. Hence it can cure the scalp problems like itching and dandruff easily. It provides all the nutrients to the hair. Apply cranberries topically to the scalp to get rid of dandruff. Cranberry shampoo also can be used as they easily found on the market.
Risks
Few people use the blood-thinning drug, Coumadin or warfarin. They should avoid more intakes of cranberries. While there is conflicting evidence about the cranberries potential to enhance the anticlotting effects, this possibly leads to increased bleeding.
Cranberry may lead to a higher excretion of oxalate in urine. This leads to the formation of kidney stone. The people who have the kidney stone problem should take their doctor advice before increasing the intake of cranberries.
Now you know the skin and hair beauty secrets of eating or applying cranberries. Grab this healthy and tasty fruit from today.
Let me know skin and hair treatments using or eating cranberries in the below comment section.