Dear Readers, Today Let's know about Eid-Ul-Fitr Celebrations Around The World, Eid-Ul-Fitr Timing. Eid-Ul-Fitr History, Eid-Ul-Fitr General Rituals, Steps of General Rituals. On Eid-Ul-Fitr Prayer and Eidgah, Eid-Ul-Fitr Islamic Tradition, Paying Fitra on Eid.
Eid-Ul-Fitr celebrated on the tenth month of Islamic lunar calendar which is the first day of Shawwal. Eid-Ul-Fitr likely to fall in most of the countries on 17th July. In some nations like India and Pakistan it falls on next day which is 18th July. According to Gulf News based on the astronomical calculations, these predictions are made.
Eid-Ul-Fitr called as the feast of breaking the fast. It is an important religious holiday celebrates by the whole world Muslims which marks the end of Ramadan month. During Eid Muslim are not permision to fast. Eid celebrates on the conclusion of 29 or 30 days of fasting. From dawn to sunset during the entire Ramadan month. Eid falls on the first day of Shawwal month.
Eid-Ul-Fitr Timing
When the new moon has seen Eid-Ul-Fitr will get confirm, and this varies from country to country. Over the sighting of the moon every year there is controversy. "Religious scholars ask the question, why do Muslims put themselves through this confusion every year? Science and technology can detect the birth of new moon."
Traditionally, it is the day shortly after sunset the first sighting of the crescent moon. After 29th day of the previous lunar month if the moon not observe immediately. The cloudy weather or because of the brightness of western sky. When the moon gets set, then it is the following day.
Eid-Ul-Fitr History
In Arabia before the advent of Islam, there is mention of festivals among the Arabs.
Eid-Ul-Fitr originate by the Islamic last Prophet Mohammed (SAW). It is found at the end of the month of Ramadan and on the first of the month of Shawwal. During Ramadan Muslims undergo fasting.
After the migration of Muhammad (SAW) from Mecca, these festivals were initiate in Madinah. When Prophet arrived in Madinah, he observed people celebrating two specific days by entertaining themselves with merriment and recreation.
Prophet Muhammad (SAW) asked them about these festivals. They replied that these festivities are occasions of fun and recreation. At this, the Prophet (SAW) informed that the Almighty has fixed two days for festivals. Which is better than any other festivals Eid-Ul-Fitr and Eid-Ul-Adha.
Eid-Ul-Fitr and Eid-UL-Adha both the festivals for Muslims are occasions for showing gratitude to God. Remembering him, and also an occasion of entertainment. Aisha (RA) narrates that her father Abu Bakar Siddique (RA) on Eid day stopped young girls from singing (Without music). Then Muhammad (SAW) said Abu Bakar (RA) let them sing. This day is our Eid and every nation has an Eid.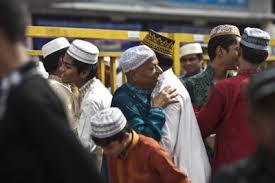 Eid-Ul-Fitr General Rituals
Eid-Ul-Fitr celebrates for one, two or three days. Common greetings are the Arabic greetings "Eid Mubarak" which means 'blessed Eid' or "Eid Sa'id" means 'Happy Eid'. Each country has their own style to wish Eid in their local language.
On Eid-Ul-Fitr day Muslims wake up before sunrise early in the morning brush their teeth. Take a shower and offers salat Fajr (the morning prayer) put on new clothes and apply perfume.
On Eid-Ul-Fitr day they should not fast. Before attending Eid Prayer (salat) need to have small sweet breakfast preferably date fruit.
Before performing the Eid prayer money pay to the needy and poor. As an obligatory act of charity in Arabic "Sadiq at-Ul-Fitr".
Steps of General Rituals
*Show Happiness
*Need to pray in local Masjid
*Charity must give
*Fajr prayer must be in the local Masjid.
*For Eid salat need to start early
*In open field Takbirat must read
*Should start on foot for Eid prayer
*Say Eid Mubarak to other Muslims
*Eid prayer if in an open area same rules apply here as the Mosque. During Imam's speech as well as before and after Eid Salat Speak only about prayer or Allah and Islamic terms.
*While going to Eid prayer Muslims recite Allahu Akbar, Allahu Akbar, Allahu Akbar, lahuLa ilaha illa-l-lahAllahu Akbar. Allahu Akbar Walil-Lahil-l-hamd.
*From the prayer ground Muslims need to use separate routes.
*Women also can join Eid Salat.
*On Eid-Ul-Fitr no fasting
*For Eid prayer No Adhan or Iqama
On Eid-Ul-Fitr Prayer and Eidgah
Eid prayer is perform in the congregation (Jama'at) in any open areas. Which are like community centers or fields etc, or at the mosque. There won't be call (Azaan) for Eid prayer and it consists of two units (Rakat) with six incantations additional. The Eid prayer follow by the sermon and then asking for forgiveness. And also peace and blessings of God supplication for all living beings around the world.
Muslims visit their relatives, friends, and acquaintances after Eid prayer. Or hold large celebrations in homes, rented halls or community centers.
Eid gifts are known as Eid, which gives at Eid to immediate relatives and to children.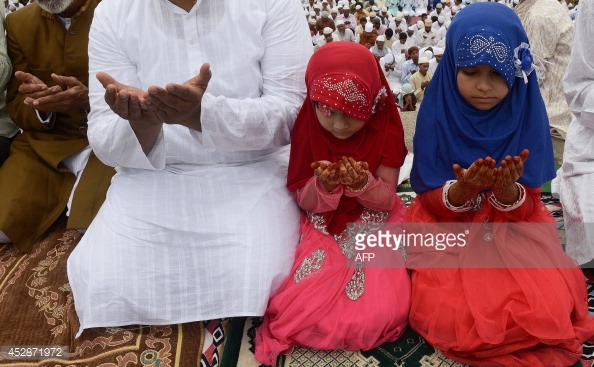 Eid-Ul-Fitr Islamic Tradition
Eid Mubarak Eid-Ul-Fitr marks the end of Ramadan month. This is related to communal activities of the fast, which expresses basic values of the Muslim community. Which is like worship, charity, empathy for the poor, patience and steadfastness etc.
This is believed by some scholars that fasting is to extol fundamental distinctions, spiritual realm power landing. The subordination of the physical realm acknowledgment.
It leads Muslims to stay away from worldly desires and complete focus on God and thank him for his blessings. It creates a strong bond between Muslims and God ( Allah) and also rejuvenation of religion.
Muslims believe that Allah commanded them as mentioned in the Quran. They continue fast for 29 or 30 days till last of Ramadan. And before offering Eid prayers pay the Zakat and Fitra.
Paying Fitra on Eid
Fitra is wajib (obligatory) on every person who is blight (mature). Fitra is the gift of money or food which every individual pays on Eid-Ul-Fitr. Before Eid prayer to the poor and needy. This is Zakat or charitable tax on per head of all family members.
Adult and sane and not slave of any other person, nor poor, nor unconscious. He should give fitra on his behalf and on behalf of all his dependents, about three kilos per head. It may be barley or wheat or raisins or dates or rice or millets etc. He can pay the price of one of these items in cash.
This is about Eid-Ul-Fitr Celebrations Around The World. What are your views on the topic? Do let me know in the comments. If you like this article please share and rate it. I will come back with new posts for Health, Recipes, and Herbal Beauty tips soon.
Keep visiting Take Care 
www.sazworld.com